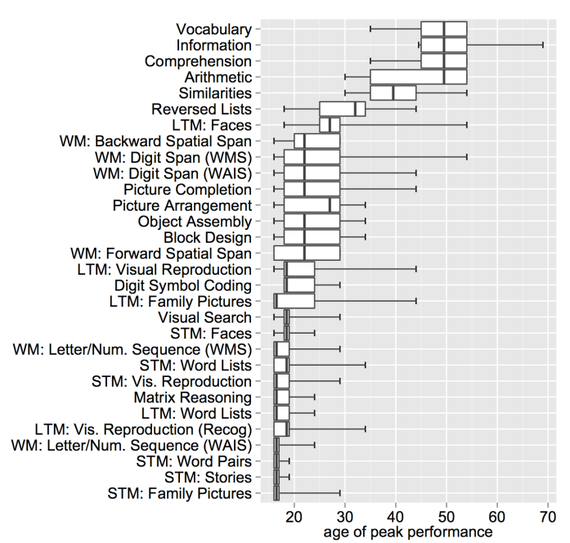 The rise and fall of cognitive skills
Neuroscientists find that different parts of the brain work best at different ages.
Anne Trafton | MIT News Office
March 6, 2015
Scientists have long known that our ability to think quickly and recall information, also known as fluid intelligence, peaks around age 20 and then begins a slow decline. However, more recent findings, including a new study from neuroscientists at MIT and Massachusetts General Hospital (MGH), suggest that the real picture is much more complex.
The study, which appears in the journal Psychological Science, finds that different components of fluid intelligence peak at different ages, some as late as age 40.
"At any given age, you're getting better at some things, you're getting worse at some other things, and you're at a plateau at some other things. There's probably not one age at which you're peak on most things, much less all of them," says Joshua Hartshorne, a postdoc in MIT's Department of Brain and Cognitive Sciences and one of the paper's authors.
"It paints a different picture of the way we change over the lifespan than psychology and neuroscience have traditionally painted," adds Laura Germine, a postdoc in psychiatric and neurodevelopmental genetics at MGH and the paper's other author.